EIU Weather |
EIU WeatherCenter Forecast
WeatherCenter Forecast
Your SkyWatch Weather Brief

Friday May 1, 2015
WEIU SkyWatch Local Forecaster Lacey Clifton
Happy Friday everyone ... and happy May Day!
We are right on track temperature-wise for the first day of May!
We do have plenty of sunshine in store for this weekend, with temperatures holding in the lower to mid-70's.
We have a High Pressure cell over the area which is keeping our skies clear, and wind conditions calm.
Those winds have been keeping us feeling cooler over the last few weeks, but as we move into the day on Saturday, those winds will shift to be from out of the Southwest giving us a slight bump in temps.
I'm expecting our first chance of rain Monday night.
But I think we will hit 80 by Tuesday.
Night time temperatures will slowly creep from the 50's into the 60's, so conditions will be more comfortable for anyone who likes taking their walk a little bit later in the evening.
By Thursday I'm calling for mostly sunny skies and temperatures around 84, but more rain showers will start moving in late Thursday into Friday.
Enjoy the weekend!
Lacey Clifton
Other ways you can stay informed:
Like us on Facebook at "EIU Weather Center"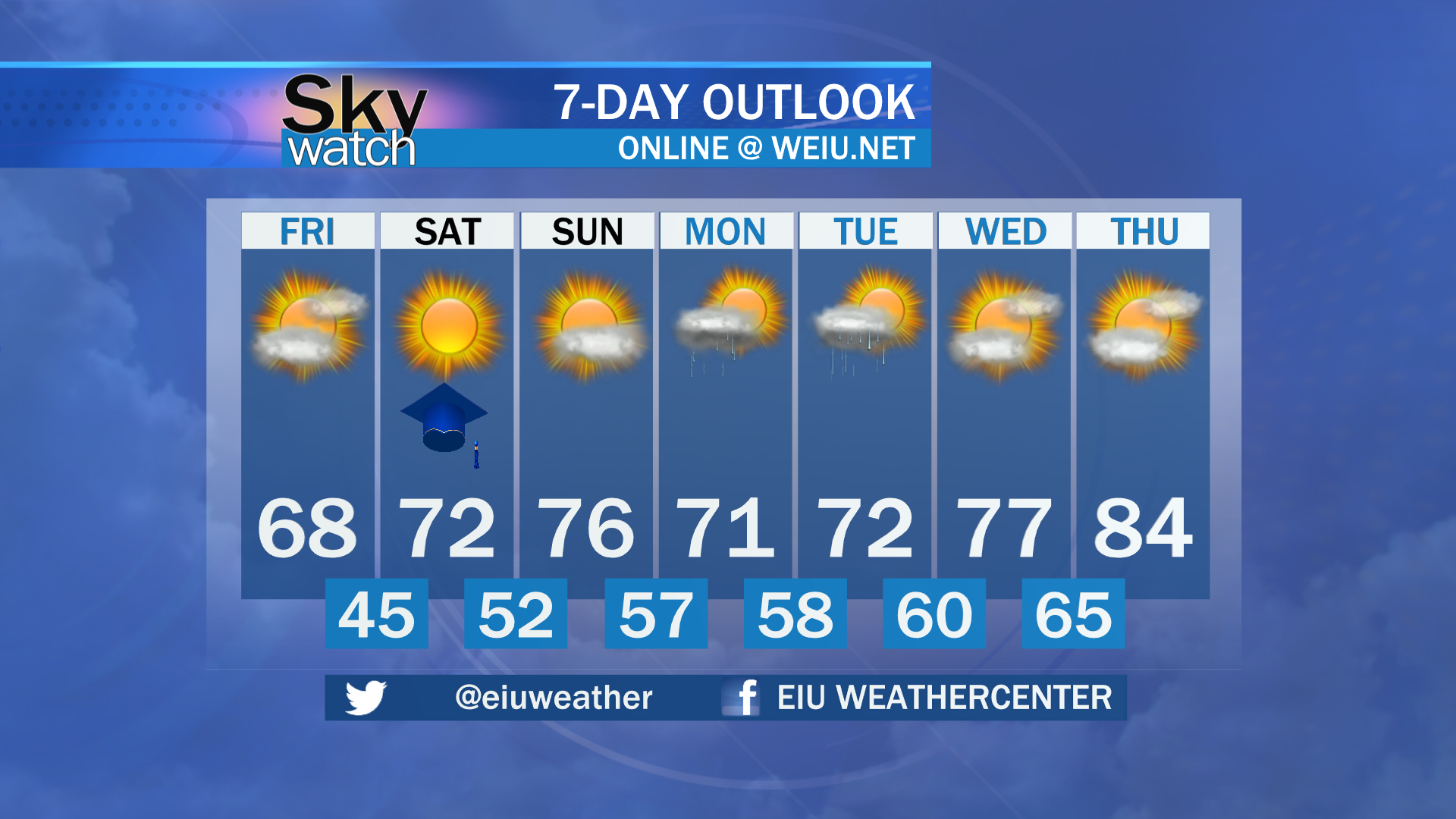 About the Forecast
Students who have declared Broadcast Meteorology as their minor with a major in Geography and Communication Studies, have completed the Broadcast Meteorology Practicum and currently work as WEIUs SkyWatch Local Forecaster produce the images and forecast discussion on a daily basis. Their work is supervised by the program coordinator, Cameron Craig. Students are required to use scientific data to complete their daily forecasts. If you are interested in learning more about the program or becoming a broadcast meteorology, contact Cameron Craig via email at cdcraig@eiu.edu.