WeatherCenter Forecast
Your Weather SnapShot :: Charleston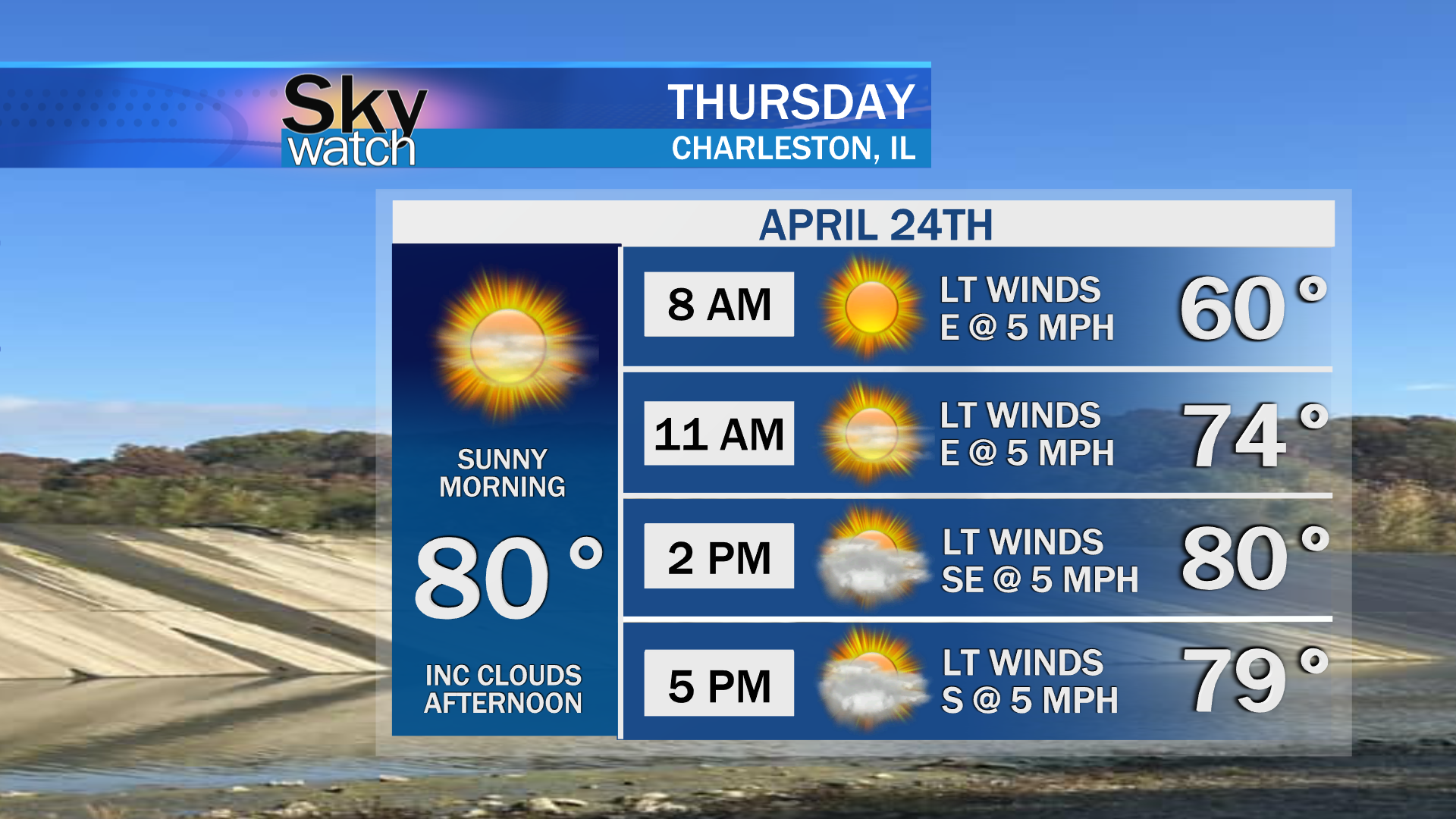 Other SkyWatch Products
Geography and Weather Features
Faculty Mentor Takes Student to Work with EIU Graduate
Students learn more about their art/science by experiencing it in a new, exciting, and different environment. EIU geographer and broadcast meteorology mentor, Cameron Craig, believes in providing students with experiences that takes students to the next level of professionalism. This is just one example of the opportunities the Department of Geology/Geography provides students.
While many of Craig's students attend the National Weather Association Conference in the fall to network and have their broadcasts critiqued by professionals, there are a few that are unable to attend in order to "hold the fort" at WEIUs NewsWatch. Craig wants to extend those students an alternate opportunity to travel and work with previous WEIU NewsWatch Forecasters.
Senior geography major, Braden Harp of Robinson, Illinois, is the first of a series of students that Craig will host to work with former EIU graduates employed at commercial television stations across the United States. Harp will work with 2010 EIU graduate, Kevin Jeanes, currently chief meteorologist at KOLD-TV in Tucson, Arizona this January. The two will work side by side during a four day trip to learn the specific aspects of being a broadcast meteorologist in a commercial environment. "The more students can experience the field through previous EIU students, the more prepared students will be for the path towards a prosperous career," states Craig.
In a period of budget crisis at the university, Craig uses any available resource to help fund student travel. In this particular situation, Craig used a companion ticket he acquired through a personal frequent flier program to help the department out with travel funds as well as give students a chance to see the world.
The trip to Tucson is Harp's first time flying and his first time traveling to the western part of the United States demonstrating to future EIU students that EIU provides exceptional educational experiences. Craig says, "Having former broadcast meteorology students spread across the United States gives additional opportunities to travel and develop professionalism for current and future EIU students."
EIU WeatherCenter on Facebook!
WeatherCenter students and faculty advisor, Cameron Craig, will be providing forecasts for each student's hometown and Charleston, Illinois everyday. Be sure to Like us on EIU WeatherCenter's Facebook page! Cameron Craig will continue to send out the daily weather brief for Charleston, Illinois via email. If you wish to receive the email, contact him at cdcraig@eiu.edu.
Expedition Endurance: Without Water, We Are Nothing (2014)
Between May 18th and May 30th, five members of TCPFilms traveled 5,530 miles to learn about water resource management in the Southwest United States. Along their journey they met with water resource managers, a president of a water agency, Bureau of Reclamation public affairs person, and residents and farmers of Huron, California. The story of the members of the TCPFilms Family is an amazing one with first-time visits to new states and eye-opening first-time experiences in the Rocky Mountains and various national parks like Grand Canyon, Yosemite, and Rocky National Park. Read about their experiences on our Facebook page.
Read the diaries of the TCPFilms Family and See Photos...
EIU WeatherCenter is staffed by students majoring in Geography and declaring Broadcast Meteorology as a minor. Students go through a rigorous scientific education in order to keep the public informed of impending hazardous weather.