Legislative Affairs |
News
BREAKING NEWS:
Pension Law Overturned
Final Stretch
We have entered into the final month of scheduled session. There have been no alternative budget proposals since the Governor's in February (which proposed a 31.5% reduction in state funds for all public universities including EIU).
Things have been somewhat eerily quiet. While it is common for the budget to be pulled together in the final weeks, there is usually at least a general agreement on the revenue on which to base the budget. With only 16 session days between now and scheduled adjournment there is much concern about whether or not the legislators, leaders and Governor will be able to come together in time. As of 12:00am June 1 the vote threshold required to pass a budget will increase from a simply majority (50% + 1) to a supermajority (3/5). If a budget is still not agreed to by July 1, the State government may begin to shut down as that is the start of the new fiscal year in which no one would have spending authority.
The Legislature on Spring Break
Not nearly as exciting as many collegiate spring breaks, but the Illinois General Assembly has started its 2-week Spring Break. With that, all bills should now have moved out of the committee stage (in the chamber they originated in) and will be in line for final debate and passage (again, in their chambers of origin) when the General Assembly returns April 14.
This break is welcomed by both the legislators and those who follow the process as this time allows everyone to weed through what bills are actually still "moving" and what appear to have "died" (by not moving out of committee stage).
The biggest issue facing EIU this Spring is by far the proposed budget cut (31.5% proposed cut in appropriations for all public universities). Beyond that, there are policy issues in the mix including, but not limited to: performance funding, AP credits, employee dependent tuition waivers, community colleges granting 4-year degrees, various methods of limiting or expanding MAP eligibility, and making all public universities in Illinois transition into private universities.
The newest member of the Illinois House is an EIU alum - Representative Tim Butler (R-Springfield). This brings us to 7 EIU alumni in the current Illinois General Assembly! Rep. Butler IS EIU!
Gov. Rauner to Give Budget Address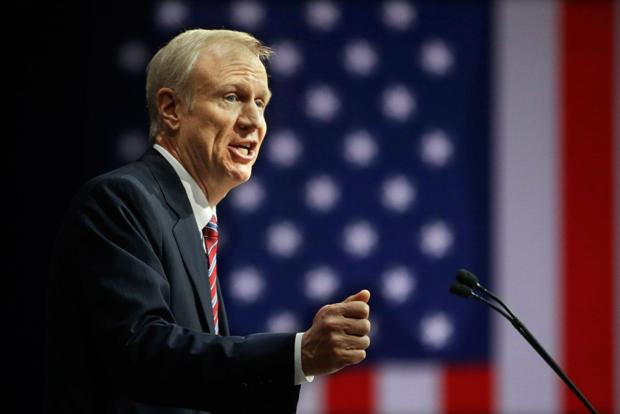 EIU President Bill Perry was present as Gov. Rauner gave his State of the State address on Feb. 4. The Governor spoke of many ideas and tough decisions ahead but he did not talk much about higher education other than a need for more attention to vocational training.
This Wednesday, February 18, Governor Rauner will give his Budget Address. This address is typically the starting point for budget talks each Spring. The Governor's proposal is expected to be dire as it is anticipated he will abide by the Constitutional requirement that his proposed budget be based ONLY on monies estimated to be available within the current revenue structure and economy. The income tax increase passed under Governor Quinn was allowed to expire (Dec. 31st, 2014) and the current year budget (signed by Quinn) appears to have assumed the tax increase would have been extended. Thus, there is a gaping hole in the current year budget (which goes through June 30, 2015) and full scale structural imbalance for the upcoming budget year.
EIU will be testifying before both the House and Senate appropriations committees on March 12 in response to the Governor's proposal and with regard to our specific needs.
If you would like to watch the Budget Address live, at noon on Wednesday, February 18 - go to this link: http://www.ilga.gov/house/audvid.asp.
Photo credit Associated Press/Seth Perlman.
Newly Elected Sworn In, Session Starts
The newly elected (or re-elected) state constitutional officers were sworn in on Monday, January 12 and the newly elected (or re-elected) state legislators were sworn in Wednesday, January 14. Thus, the new (99th) Illinois General Assembly is open for business. Bill introductions are being read into the record so that business can really get underway when the legislators return to Springfield the
Illinois has had Democratic controlled House, Senate and Governor's offices for over a decade. Governor Rauner's election is anticipated to prompt a new era of bipartisan governance. final week of January.
Governor Rauner has already issued a freeze on all non-essential state spending and has ordered a review of all recent contracts. The fiscal situation of the State is dire. That said, both Governor Rauner and Speaker Madigan spoke even this week of protecting education (P-20) and improving affordability. Time will tell.
Among the new legislators sworn in was our very own Reginald "Reggie" Phillips (pictured below) who is not only the new State Representative for Eastern Illinois University but also an alum. We look forward to working with Reggie to advance EIU's goals.
Reggie and his wife, Martha, are both EIU alums and have four children together.
One Week Down, One to Go
The first week of veto session has ended and the members of the General Assembly have headed home to their districts and their families for the Thanksgiving holiday week. The second week of veto session starts December 2.
No higher education related legislation is moving thus far during the veto session, nor is any expected. The minimum wage increase is being discussed but neither chamber has passed it yet.
A circuit court judge is expected to issue a ruling on the pension reform bill (SB1) today at 2pm. Whatever his decision, it is expected to be appealed to the State Supreme Court.
Fall Veto Session 2014
We are gearing up for the fall veto session.
The first week will be November 19-21 and the second (and final) week will be December 2-4, 2014.
Veto session is designed to be a time for the General Assembly to come together briefly in the fall, after the Governor has either signed or vetoed all the bills from the past Spring, so that the legislators can override any vetoes if so desired. Sometimes, issues that are unrelated to vetoes pop up as well. Typically non-veto items that are handled in veto session are of an emergency nature (supplemental appropriations or some sort of legislative/statutory error/issue that was only noticed after the Spring session but has immediate consequences if not dealt with). Occasionally, items neither considered veto-related or emergency in nature are brought up during veto session. What is fairly consistent is the frantic atmosphere of the session due to its extremely condensed timeline (6 days total). Most votes in veto session require a 3/5 majority of members.
Veto session is also the first meeting of the General Assembly in the lame duck season (some legislators will be on their ways out due to either losing re-election or not seeking another term). However, the "lame duck session" generally occurs in January as voting requirements mostly drop to simple majorities at that time. Early January is when the most recent income tax increase was passed, for example.
Spring Session 2014
Spring Session Adjourned! (posted May 31, 2014)
The Illinois General Assembly is adjourned for the summer. The House adjourned just before 8:00pm on Friday, May 30th and the Senate adjourned just after midnight on May 31st. According to the State Constitution any action after May 31st requires a super majority (rather than a simple majority), in order to take effect in the same calendar year.

The State budget sent to the Governor puts all public universities at a .0026% (one quarter of 1% - NOT 26%) decrease as compared to the current year. We would have obviously preferred an increase or flat funding, but understanding that the cut could have feasibly been as much as 12% to make up for the temporary income tax expiring - things could have been worse.
We are excited to report that SB 2765 (Righter/Hays) received a unanimous vote on concurrence in the Senate tonight in the final hours of the Spring session. So, SB 2765 which extends the Panther Promise tuition discount program for another 3 cohort years, is on its way to the Governor's desk. This program has been widely hailed as a model for other schools by legislators in both chambers of the Statehouse.
Check the legislation page to see most of the bills we were tracking, which ones passed, and which did not.
The schedule for the two-week veto session was announced today. The first week will be November 19-21 and the second and final week will be December 2-4, 2014.
SURS Stay Issued by Court (issued May 14, posted May 15, 2014)
A Sangamon County judge has issued a stay on the entire pension bill (SB1) until the courts have ruled on the constitutionality of the changes. SURS is waiting until they can read the actual order to post an update or advisory to members. Generally, this means the changes scheduled to take effect June 1 and July 1 (presuming no court will have time to decide in the law before then) will NOT take effect as scheduled.
Click here to read a more in-depth article in today's Springfield newspaper:
http://www.sj-r.com/article/20140514/NEWS/140519681/?Start=2
SURS Update (posted May 13, 2014)
There has been an agreement reached regarding some of the SURS issues of late:
(excerpt from WUIS story by Amanda Vinicky)
"The tentative agreement between the SUAA and the attorney general resolves problems stemming from what can be described as typo in the pension law affecting university workers' so-called "money purchase plans." The SURS board recently voted to interpret the law as if the typo were fixed, so as to not inadvertently further cut some university workers' pensions.
But the SUAA deal also goes beyond that; it eliminates issues involving so-called "refunds" that would have meant some university employees would have taken big hits were they to stay on the school payroll; the original request for an injunction, filed May 2, cited a man who would lose $190,000 if he kept working rather than retire by July.
The deal would also allow retirement systems to temporarily ignores a key provision of the pension law which reduces by one-percentage point how much employees must contribute toward their retirement; under the terms workers will continue paying what they do now, so as to not create additional harm if the law is found to be unconstitutional. "
Read the full story here:
http://wuis.org/post/deal-reached-university-pensions
Also, the SURS Board approved a fix last Friday with regard to the money purchase date issue.
May (posted May 5, 2014)
May is here. May is (usually) the final month of the Spring legislative session. Adjournment usually occurs on or slightly before May 31 - sometimes at 11:59pm that night. The significance of this date is that according to the State Constitution any legislation approved after May 31 in a given year must garner the votes of a SUPER-majority (rather than a simple majority) in order to go into effect in that calendar year.
Bills that passed out of their chambers of origin are trying to make their way out of committees in their second chambers. If they are successful and then pass on third reading - they will head to the Governor for signature.
The biggest thing that really starts happening in May is the budget. Although Governor Quinn opens the discussion with his budget address each Spring, typically in March or April, the actual negotiations and drafting usually don't start happening until May.
May is also the season of one-hour posting notices (an entirely new and massive piece of legislation can be dropped as an amendment and be posted for hearing only 1 hour later).
EIU's advocacy staff and our legislators will be fighting for every penny in these last weeks as the budget comes together while also trying to ensure that substantive legislation that might help us is passed but legislation that might hinder our ability to provide a high quality and affordable education is stopped or appropriately amended.
Third Reading Deadline (posted April 11, 2014)
Third reading deadline was April 11, 2014. That means all bills, unless granted deadline extensions, must have now passed out of their chambers of origin in order to still be "alive."
The General Assembly is now on Spring Break and will not return until April 29th. Upon return, they will hold committee hearings on bills that have come over from the opposite chamber. Toward the second half of May they will move on to third readings of bills on final passage (heading to Governor's desk) and the budget will get hammered out (that's the plan, anyway).
The Student Action Team was in the Statehouse on April 9th and had a great day meeting with legislators as well as Governor Quinn!
Photo credit: Illinois Senate Republican Staff
Governor's Proposed Budget (posted March 27, 2014)
On March 26th, Governor Quinn delivered his 2014 Budget Address before a joint session of the Illinois General Assembly. He pointed out that the State Constitution requires the Governor propose a budget that relies only on the funds realistically anticipated to be on hand in the budget year. For that reason, the Governor's "budget book," which is the publication that details his budget proposal each year, actually includes two distinct sets of proposed funding levels. The first level, or his "not recommended level" is the level of funding the Governor believes will be necessary if the temporary income tax increase which has been in effect for the last couple years, is allowed to expire. The second level, or his "recommended level" distributes funds based on the tax increase being extended or made permanent. Obviously, this scenario provides for higher funding levels for the various sectors of state government - including higher education.
You can read the Governor's budget address here.
You can view a video of the address and read the accompanying press release here.
You can see detail in his proposed budget book here. See PDF page 449 for EIU.(Very large document)
EIU's current year state appropriation is $44,041,100.
The Governor's "not recommended" level (so, if the income tax increase is not extended) for EIU in FY 15 is $38,590,400 - or a decrease of ~$5.5 million or ~12.4%.
The Governor's RECOMMENDED level for EIU, which is contingent on the income tax increase being extended, is $44,104,600 - or an increase of $63,500.
Typically, the Governor's proposed budget is viewed by the General Assembly as a starting point for discussions. The final product, usually voted on the last week of May, is the result of heavily negotiated compromises between the executive and legislative branches, the two legislative chambers, and the legislative leaders.
Overview and key dates.
The regular spring session of the Illinois General Assembly convened Wednesday, January 29th.
The Governor's Budget Address is March 26th and can be watched or listened to live at noon that day through the General Assembly's website: http://ilga.gov/house/audvid.asp.
The deadline for members to get bills out of (passed) committees in their chambers of origin is March 28. The third reading deadline for bills to be passed out of their chambers of origin is April 11.
At that point, all "live" House bills need to work their way through the Senate and all "live" Senate bills need to work their way through the House.
The Student Action Team is having their Lobby Day on April 9.
Scheduled adjournment is May 31. They may go past this deadline, but in doing so - most bills that previously required only a simple majority suddenly require a super-majority.
This is the second year of the 98th General Assembly, which typically means there will be fewer substantive (non-budgetary) bills taken up and most of the focus will be on the budget. There are of course, exceptions, but that is generally the rule.
---
Winter / Special Session 2013
December 5, 2013 - Governor Quinn signed the pension bill, SB 1.
December 3, 2013 - Pension reform passed both chambers late today.
The Conference Committee's report, SB 1, which contains the legislative leaders' pension reform agreement, passed both chambers and is headed to the Governor's desk for signature. The Governor has already announced he will sign the bill.
The legislation passed the Senate by a vote of 30 yes, 24 no and 3 present (30 yes votes were needed) and it passed the House by a vote of 62 yes, 53 no and 1 present (60 yes votes were needed). If you would like to see how your legislators voted you may view the final roll calls here:
Senate roll call
House roll call
General Assembly Passes Pension Reform (Sun Times)
Illinois Lawmakers Approve Major Pension Overhaul (Tribune)
SB 1 (Conference Committee Report)
Summary of proposed changes (Chicago Tribune)
---
December 2, 2013 - The presidents and chancellors of the Illinois public universities issued a letter to the four legislative leaders and the Governor expressing their "profound disappointment" in the pension proposal brought forward by the leaders and the conference committee.
Presidents' and Chancellors' Letter
---
November 27, 2013 - The Chicago Sun Times reports the leaders have reached a deal. No details on the components of the agreement at this time.
Legislative Leaders Strike a Deal on Illinois Pension Reform
---
November 25, 2013 - The General Assembly will return to Springfield next Tuesday, December 3, and is anticipated to take up pension reform legislation at that time.
---
Fall Veto Session 2013
The General Assembly met for the fall 2013 legislative veto session October 22-24 and November 5-7. There was some speculation that legislators might finally act on comprehensive pension reform. The legislative leaders are rumored to have signed off on a framework agreement (the details of this agreement are not yet in public or legislative form). However, the actuaries were unable to estimate the cost savings of the reform package prior to the close of the scheduled veto session. House Speaker Michael Madigan (D-Chicago) told reporters that members may be called back to Springfield yet this calendar year to take up a pension proposal.
A few bills of interest were passed by the General Assembly and sent on to the Governor for signature:
SB 10 - Religious Freedom and Marriage Act (permits same-sex marriage)
SB 1523 - Chicago Park District Pension Reform (some speculate might be a template for broader reform)
HB 209 - Supplemental Appropriations
AM 180 - Appointment of Bill Dano to EIU Board of Trustees
SB 2196 - U of I School of Labor provisions and SURS retire/rehire changes
The regular spring session of the General Assembly is scheduled to begin January 29, 2014 which is also the date of the Governor's annual State of the State address.
Pension Reports and Related Information